She has dominated our movie screens for decades, and part of that success is thanks to her captivating smile.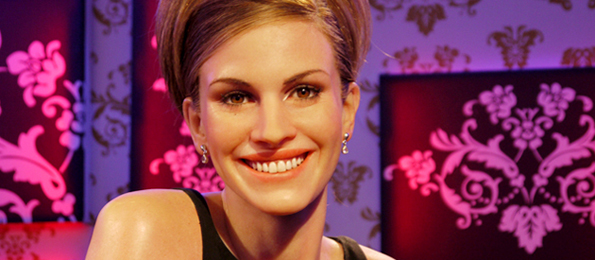 Ask any dentist in the world, and they will tell you that one of the most requested celebrity smiles is that of Julia Roberts. Perfectly white, symmetrical and well proportioned, this actresses smile is the inspiration for many
smile makeovers
conducted by Dr. Curtis Couch at our Thousand Oaks dental practice.
Capture some of Julia's vivacious charm with a smile makeover from Curtis Couch D.D.S….
Our Thousand Oaks Dentist, Dr. Couch has crafted beautiful smiles for numerous celebrities and dignitaries alike, with clients flying in from all over the world to experience his difference. Dr. Couch has a range of cosmetic dental treatments to transform your smile and enhance your appearance. Our
whitening treatments
at our Thousand Oaks dental practice can refresh your smile for a beautifully youthful look, and our bonding treatments can repair chips, cracks and asymmetry in your smile.
Refresh your whole smile with a single cosmetic treatment.
Porcelain veneers are a fantastic cosmetic treatment that we offer at our Thousand Oaks dental practice, and can treat most esthetic qualities of an imperfect smile. These include:
Discoloration
Asymmetry
Chipped or cracked teeth
Unwanted Gaps
Teeth that are too long or too short
Porcelain veneers
are shells the thickness of a fingernail, that are permanently bonded to the outside surface of your teeth. This treatment is advantageous as:
The porcelain material is translucent like that of natural tooth enamel.
The veneers can be matched to the exact shade of your natural teeth.
The process can give strength to weakened and worn teeth.
The porcelain material is resistant to future staining.
Porcelain veneers can give you that Hollywood worthy smile for over a decade. To find out more about the cosmetic treatments we offer at our dentist Dr. Curtis Couch offers at his Thousand Oaks practice,
please contact us
.